DJ Dave Glover
Professional Disco Entertainment
---
Surrey Wedding DJ
This is going to be one of the biggest days of your life and choosing the right DJ for your wedding is going to play a crucial part on that big day!
This is where my professionalism, reliability and experience will suit you. At every wedding I play, I make sure I give the Bride, Groom and their guests an experience to remember, from playing the music to a spectacular LED dance floor, mood lighting and a light show to give you the wow factor. My priority is listening to what YOU want from me and understanding your requirements.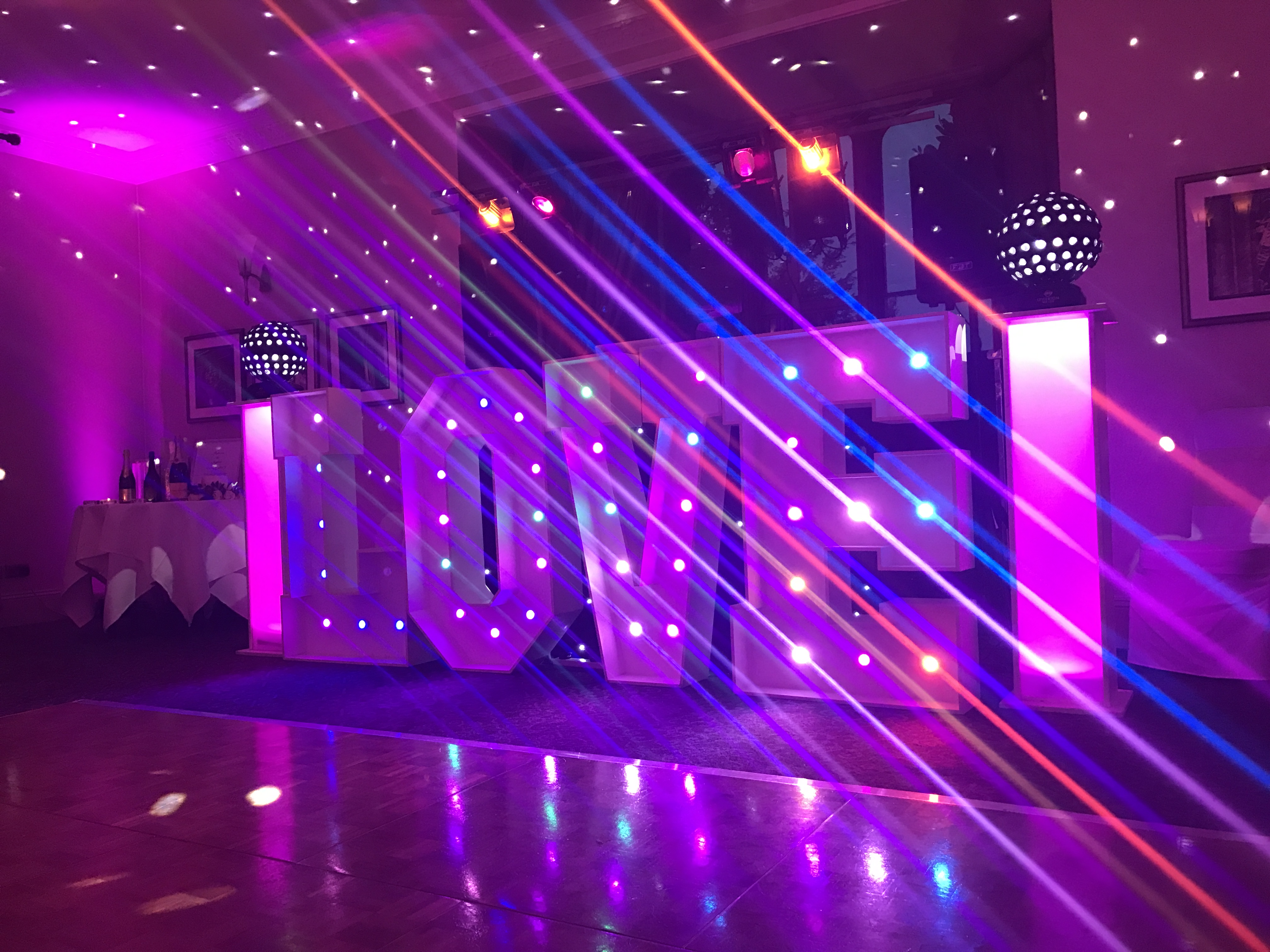 What makes me different?
I encourage all of my clients to meet with me prior to the wedding, to discuss requirements and any special requests which you may have. I can provide wedding planners but I believe that the personal touch is best. I believe that face to face contact is paramount throughout your wedding process, so at our meeting I can sit down with you and discuss your exact requirements. I tailor the service to meet with your needs. I believe attention to detail is paramount.
Music
Your wedding is about having the music which you and your guests will dance to from start to finish and having those songs which "you have not heard in ages" and those songs where everyone goes crazy on the dance floor. Music is a big part of a wedding but the backdrops and the light show are equally important!
From my many discussions with clients, I have found that some like total control of the music and some are happy to 'go with the flow'! This is all down to your personal taste, it's your day and you want the sort of music that you and your guests will dance to.
When I ask for playlists or even just 10 of your favourite songs it's not to make my life easy, it's so that I have an understanding of your music requirements; which genres you like, the songs you do not want played. When selecting your songs try to think about what you and your guests would like to dance to. There are always songs we enjoy listening to but would you actually dance to them? So when choosing your music try to think of the songs that you and your guests would dance to but not sit there and just listen to. I have had many clients send me many of their favourite songs but to be honest they are not songs to dance to!
My experience comes into play from the playlists you send me. This is where I can select songs to mix into the list which everyone will enjoy; I also encourage requests throughout the evening.
A crucial part of playing music is timing. It's about choosing the correct song at the correct time to give the biggest impact as floor filler. I tend to find the sing-along songs are best kept towards the end, but if your guests are ready for them at the start I will happily play them. No wedding is the same and every guest is an individual. Everyone likes to party differently and from this I can gauge the crowd. Getting the timing correct is crucial!
I have a vast music collection dating back from the 60s to present and I can assure you I have the majority of floor fillers and anthems to get the party going.
Why Choose Me?
All bookings confirmed with a Written Hire Agreement.
£10m Public Liability Insurance for full health and safety requirements.
I welcome playlists of YOUR favourite songs that you want played at your wedding.
I reply to all emails often within the hour or at most within 24 hours. I like to provide a quick responsive service to all clients to respond to your questions ASAP.
I have a vast music collection spanning five decades so I can play music to suit all ages.
Modern and well maintained equipment to assure reliability. Backup equipment also provided.